This page provides you with practical information about our practice. It includes descriptions of our office location, including a map and directions, hours, appointment scheduling, insurance acceptance and billing policies.
---
Douglas S. Robinson, DPM, FACFAS
131 E Hamilton Ave.
Campbell, CA 95008
Main: (408) 370-3338
Fax: (408) 374-1166
Monday: 7:00 AM - 04:00 PM
Tuesday: 7:00 AM - 04:00 PM
Wednesday: 7:00 AM - 04:00 PM
Thursday: Closed
Friday: 7:00 AM - 01:00 PM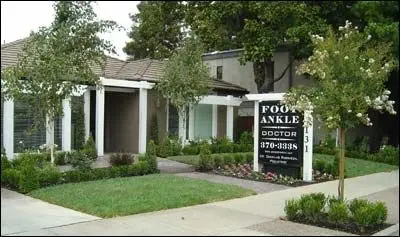 Office Hours and Appointments
Appointments can be scheduled by calling 408-370-3338. Office hours are Monday through Friday. We have early morning and lunchtime availability. The time reserved for each patient is proportional to the anticipated care necessary. Every effort is made to be available for our patients at their scheduled times. We kindly request that the patient do the same. If a conflict in your schedule should arise, please allow us a 48-hour notice to reschedule or cancel so another patient can reserve time to see the doctor. Otherwise, a reasonable fee for the time lost will be charged.


New Patients and Referrals
We are often asked if our practice is accepting new patients. The answer is a wholehearted "YES." A word of thanks to everyone who has visited our office. The votes of confidence and dedication of time have come a long way. We appreciate all the referrals that have come to our office by the recommendations of our patients. We pledge to care for these Very Important Patients in a personalized manner. Many thanks to you.
Map and Directions